Guest Blog Post from Fire Department Coffee

Mechanics are the unsung heroes of the American workforce.

They work behind the scenes and under the hood to ensure that the vehicles and machines that power our nation are running smoothly and efficiently.

Without the skills and dedication of these hardworking individuals, our economy and way of life would come to a screeching halt. At Fire Dept. Coffee, we've developed a mutual admiration and appreciation for mechanics everywhere. So many of them have told us that our coffee helps them get through the day and get the job done.

It's an honor for us to play a small role in their day-to-day work because none of us could do what we do without the efforts of mechanics of all different specialties.

They are the backbone of American transportation — which is the backbone of American society. From fixing cars to maintaining heavy machinery, mechanics keep our nation's infrastructure running.

They work tirelessly to keep fleets of trucks and buses on the road, ensuring that goods and people are transported safely and on time. They also keep our railways and airports functioning properly, so that we can travel and ship goods across the country and around the world.

Beyond the transportation industry, mechanics play a crucial role in many other areas of our economy. They keep our factories and warehouses running smoothly by maintaining and repairing the machinery that powers our manufacturing and distribution systems. They also keep our farms and construction sites operational by maintaining and repairing tractors, bulldozers, and other heavy equipment.

Mechanics work long hours, often in challenging conditions, and they must be knowledgeable about a wide range of machinery and equipment, and be able to diagnose and repair complex problems quickly and efficiently. They take pride in their work and in their contribution to our nation's economy. They know that their work is essential to keeping our country moving forward, and they take that responsibility seriously. They are dedicated to providing the highest quality service to their clients, and are always striving to improve their skills and knowledge.
JASON PATTON, FIRE DEPARTMENT COFFEE'S VICE PRESIDENT, BEGAN AS A MECHANIC
Our appreciation for the contributions of mechanics starts at the highest levels of our company.
Fire Dept. Coffee Vice President Jason Patton actually began his career as a mechanic, spending years working for Ford and Chevrolet in South Florida.
"I became a mechanic because my father was a mechanic," Jason said. "He was a mechanic and a general manager throughout most of my childhood, and I was inspired to follow in his footsteps."
Jason received formal training through a program called Ford ASSET — Automotive Student Service Education Training — in Hollywood, Florida. In the program, students alternate between classroom work and hands-on training at a dealership. Upon completing the program, they earn an associate's degree, along with extremely valuable experience.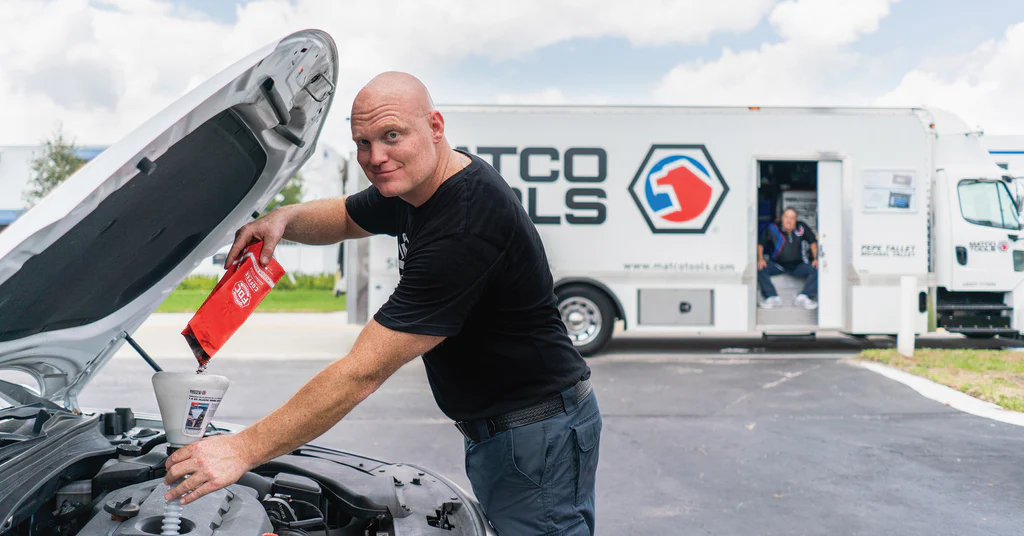 The training gave Jason the opportunity to work on a variety of aspects of automotive repair from front line to driveability, even heavy line and wind/water leaks.
Though Jason ultimately found his true calling in the fire service, his appreciation for the importance of talented and dedicated mechanics is as strong as ever. And the skills he learned during his automotive training continue to come in handy on a regular basis.
EMERGENCY VEHICLE TECHNICIANS KEEP FIRST RESPONDERS READY 24/7
Of course, in the fire service, we have our own special set of mechanics.
Emergency vehicle technicians (EVTs) work tirelessly to ensure that our firefighting equipment and vehicles are in top condition and ready to respond to emergencies at a moment's notice.
EVTs are highly skilled technicians who specialize in maintaining and repairing emergency vehicles, including fire trucks, ambulances, and other first responder vehicles.
One of the most important aspects of EVT work is maintaining the reliability and performance of firefighting equipment. Firefighting equipment such as pumps, PTOs, and critical electrical components must be in good working order at all times. EVT's also work on the hydraulic systems that operate the aerial ladders and other firefighting equipment, ensuring that they are functioning properly when they are needed most.
When it comes to firefighting, every second counts, and a malfunctioning piece of equipment can mean the difference between life and death.
The role of EVT's in firefighting and emergency response cannot be overstated. Their expertise and dedication to their craft ensure that first responders have the tools they need to do their job safely and effectively. Without the hard work and dedication of EVT's, our emergency response systems would not be nearly as effective as they are today.
MATCO BRINGS TOOLS — AND COFFEE — DIRECTLY TO MECHANICS
Mechanics take care of us, so we're always looking for ways that we can take care of them.
One of our favorite ways has been to partner with Matco Tools and tap into their unique mobile store model to help meet mechanics where they are.
Matco describes itself as "the ice cream truck of car repair" because they bring fully stocked mobile stores directly to their customers' place of business. Matco trucks carry a wide range of tools, including wrenches, sockets, power tools, diagnostics equipment, and more. These mobile stores typically visit mechanic shops, automotive dealerships, and other businesses that require automotive tools and equipment on a regular basis.
The benefit of the MATCO Mobile Store is that it brings the tools and equipment directly to the mechanics and technicians who need them. This saves time and increases efficiency, as the mechanics don't have to leave their workstations to go to a physical store to purchase the tools and equipment they need.
Now they can also get the coffee they need to keep their crews caffeinated and motivated keep the wrenches turning and get the job done. MATCO's mobile stores now carry Fire Dept. Coffee products in bags and coffee pods.
It's been a great partnership opportunity for us. We know that repair shops are a lot like fire stations. They're always busy, and there is always a pot of coffee brewing.
A good cup of coffee is like a versatile tool. It can get you primed and ready to tackle the toughest job — and yet a fresh cup is also there waiting for you at the end, a reward for a job well done.
IN NHRA AND NASCAR, MECHANICS ARE THE HEART OF THE RACE TEAM
In 2023, Fire Dept. Coffee has also made deep connections in the auto racing world. We're now the "Official Coffee of the NHRA" and we're sponsoring Kaz Grala and his No. 26 Toyota in the NASCAR Xfinity Series.
Of course, at the heart of every successful racing team is a skilled group of mechanics who work tirelessly behind the scenes to ensure that their car is ready to perform at its best.
Mechanics in auto racing are highly trained, highly skilled professionals. They're not just experts at what they do, but they are able to work quickly and efficiently because time is always a factor — before, during and after a race.
Mechanics can handle everything from tuning the engine and suspension to changing tires and replacing damaged parts. They also work closely with the driver and the rest of the team to develop a race plan that takes into account the track conditions, the car's performance, and the competition. They monitor the car's performance during the race, providing the driver with feedback and making any necessary adjustments to help them stay competitive.
In NHRA racing, mechanics are responsible for maintaining the high-performance engines that power the cars. These engines are incredibly complex, featuring multiple cylinders and hundreds of horsepower. Mechanics must be highly skilled and knowledgeable to maintain and repair these engines, ensuring that they are performing at their best during every race.
In NASCAR racing, mechanics play a critical role in ensuring that the car is performing at its best during pit stops. During a pit stop, the car will be refueled, tires will be changed, and any necessary repairs will be made. Mechanics must work quickly and efficiently during the pit stop to ensure that the car is back on the track as quickly as possible, without sacrificing performance.
The bottom line? Mechanics are all around us, keeping everything moving, keeping everything operating smoothly. If you don't notice them, that's usually because they've done their jobs well.
So join us in raising a steaming mug to mechanics everywhere. Thank you for all that you do!