Owning a franchise brings about responsibility and accountability. Depending on the type of franchise you choose to get into, you can be looking at upwards of hundreds of thousands of dollars to start one. On the other hand, other franchise opportunities within the tool & equipment niche brings a more realistic view for a person who wants to start a low-cost franchise.
Franchise Start-up Costs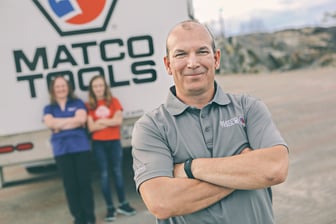 In short, start-up cost is money out of pocket. To get started as a mobile tool distributor, there is an initial cash outlay that is typically very reasonable. This covers costs that enable you to get your business up and going. For perspective, a franchise with low startup costs can range anywhere between $10k to $35k out of pocket.
Matco Tools franchise startup costs are used for travel to our training facility and corporate office in Ohio, a down payment on your tool truck, and payment for truck insurance.
Debt & Net Worth
What helps to ensure financial stability is knowing how to manage debt. If you are planning on owning your own business you must not only consider your debt ratio (liabilities divided by assets) but also Good vs Bad debt.
Good debt refers to an investment that will generate long-term income or grow in value. An example of this could be student loans because they tend to have lower interest rates and eventually brings value to your employer and raises your future income when used correctly.
Bad debt on the other hand, is used to buy items that do not create long-term income and tend to carry higher interest rates. An example of bad debt could be unsecured credit cards. A good rule of thumb regarding limiting bad debt is this: If you don't need it or can't afford it, don't buy it.
***Those new shoes might look good now, but are they worth it in the long run?***
It's important to take into effect your net worth in addition to debt. Net Worth is the difference between the value of what your business owns, such as tools, equipment, automobiles, cash accounts, minus the liabilities, such as bank loans, credit card debt, and an auto loan. Net worth is very important because it can help give you access to good loans with lower interest rates, if you are paying down debts and increasing your savings.
Living Expenses
"I have enough money in the bank to cover initial startup costs, do I get a franchise?" Not necessarily.
In many cases (especially in households with single income earners), those who are interested in starting a franchise will need to quit their job prior to being out on a route selling tools. This means that in addition to being able to cover start-up costs, new franchisees need to be able to cover their living expenses until their new business can generate enough revenue to repay them. It is very important that you put yourself into a financial position that not only allows you to pursue your dreams, but also allows you to be financially stable in the future.
Living expenses is the estimated amount of money you need in the bank to live your life while the new franchise is in its early stages. Included in the living expenses are staples like food, cars, mortgage, and utilities.
At Matco Tools, proper budgeting for living necessities is taken very seriously. Matco avoids awarding a new franchise if it will financially constrain you. In many cases, the living expense estimate is more than what new franchisees will spend.
If you qualify for a Matco Tools franchise, you will be partnered with a seasoned Franchise Specialist to help walk you through this process and create a realistic business plan and budget.
Click Below to take the right step and own a Matco Franchise Today!