Smaller Scale. More Flexibility.
Do you still want the flexibility of owning your own business and being your own boss without the commitment of a heavy schedule? The solution is Matco 225.
What is Matco 225?
225 Customers
Smaller Truck
Less Inventory
Smaller Territory
Lighter Schedule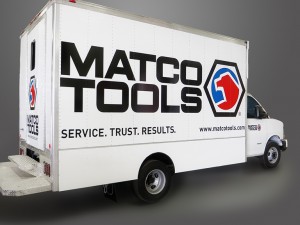 Matco offers in-house financing which can cover up to 100% of your start-up costs as well as hands-on training courses which include product and business classes. Voted a "Top 10- Home-Based Business" by Entrepreneur Magazine, Matco franchise owners bring the highest quality tools and equipment on the market to professional mechanics who use them every day.
"Matco 225 is the perfect option for current distributors looking for a lighter schedule or interested in running another route as well as for retirees from any field looking to only work a couple days a week," said Julie Jozwik, Franchise Marketing Manager for Matco Tools. "We know one size doesn't fit all and some people want the satisfaction of owning their own business on a smaller scale. The Matco 225 offers them the opportunity to do so."
Find out how Matco can put you in the driver's seat to owning your own business!
To take the next step with a FREE "See How a Matco Franchise Works" report. This form is simply an initial indicator in finding out if franchising is right for you and your family. It will in no way commit you to buying a franchise.
For more information about the Matco 225 call (888) 696-2826.