The most powerful ½ inch impact wrench on the market. Period.
Matco Tools Composite Impact Wrench offers technicians the most powerful 1/2 inch impact wrench on the market with best-in-class breakaway torque of 1,600 ft. lbs.
A variable speed trigger, one-handed forward/reverse push button, reinforced clutch mechanism, removable muffler plate, and rear housing power adjustment is just the icing on the cake.
A comfortable, durable, and lightweight impact wrench that's backed by a class-leading two-year warranty.
Many of the composite impact wrench features allow automotive technicians to work more effectively and efficiently than ever before. Aspects such as:
One-handed forward/reverse push button design
Reinforced clutch mechanism
Rear housing power adjustment
Tip valve variable speed throttle provides techs with the power and speed they are looking for in an impact wrench.
"This ½ inch impact wrench is a tool all techs should have in their arsenal," said Jody Baker, product manager at Matco Tools. "The MT2779's torque, speed and durability separate it from the other impact wrenches on the market. We always try to provide tools that will make the job easier on techs, and the powerful ½ inch impact gun is no exception."
Best Impact Wrench on the Market
Matco's impact wrench is not only the most powerful ½ inch impact wrench on the market but also one of the most comfortable and durable. The textured housing provides an ergonomic grip, which promotes comfort and durability when using the tool, resulting in less user fatigue and more comfortable operation for the long haul.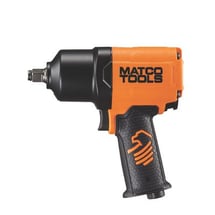 A professional mechanic from Pennsylvania, "I'm a lube tech and use this for lug nuts and light repair work. I've had this for just about 2 years and this tool paid me back in probably 3 weeks. It is very powerful, and never gave me an issue, and keeps working at my pace so I don't lose time or money. It is a great tool and is worth the price."
See all of our sizes and colors for impact wrenches.