Matco Tools is always working to offer their customers the highest quality tools and equipment products. We know that our customers rely on these products to do their jobs day-in and day-out. One of the categories that Matco is most proud of is our toolbox offering. We're very excited to highlight two toolboxes: the JSC450 and JSC480.
Tool Highlight:
JSC450 / JSC480 Toolboxes
Why the JSC450 / JSC480?
At Matco Tools, we've been looking for ways to provide customers with an entry-level toolbox that has the quality that they've come to expect from our company. This idea came from our toolbox plant in Jamestown, NY, a factory known for exceptional product development as well as production. This is a place where the emphasis is on quality over quantity and where functionality comes first.
So just who are these toolboxes made for? They can be used by anyone! Whether you are a new automotive technician, a DIY mechanic in your garage or a specialty mechanic, these toolboxes cover a wide user base.
The Features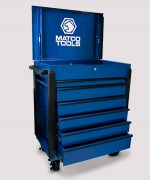 The JSC450 / JSC480 toolboxes have something that our other models do not. In comparison to carts of its size, this incredible product actually has a higher overall load capacity. This is a huge benefit, and to make it even sweeter, it is coupled with a longer warranty, which includes one year on the cart and lifetime on slides, caster and lock.
These toolboxes are very strong and built to last. With strong, fully welded columns in each corner, this product is designed for the long haul. On top of that, the upgraded stainless steel top not only has an aesthetic appeal but a functionality advantage since it doubles as a durable work surface.
The Design
Our designers at Matco Tools have gained a large amount of experience in the creation of our previous products. Brooke Colley, a designer for Matco Tools is one of many associates with that world-class knowledge. She has been working in sheet metal design since 2000 and with our toolbox plant since 2005. It is people like her and so many others who have come together to create the best products the tool market has to offer.
The overall concept in designing the JSC450 / JSC480 was to create a smaller toolbox with durable functionality at an affordable price. Several team members met and brainstormed to come up with the concept for the designs and after several discussions, they agreed upon the perfect fit for the Matco Tools brand.
Matco's team of designers has a process that always results in success. It's obvious that after many years of experience, they have the design and creation of their exceptional products down to a science. We've found that by having many members of the team involved at the front end of design, we can create great products that never cease to amaze our customers.
The Final Touch
Whether you are looking to replace an old toolbox, or you simply need to upgrade for more space, the JSC450 / JSC480 toolboxes could be just what you're looking for. Matco Tools takes product development and production very seriously and is always looking to offer our customers the highest quality of products and these toolboxes are just another example.
Check out all of Matco's Service Tool Carts.