Car Flashing and programming an engine's computer keeps the vehicle's engine control modules (ECMs) up-to-date. As what's under the hood continues to become more complex, technicians need an easy diagnostics tool that lets them enable flashing and reprogramming right at the shop with live support from a factory-certified diagnostic technician.
Enter the MaximusFlash+, a tool designed to let you perform income-generating vehicle flashing and reprogramming services in-house.

Why Car Flash Reprogramming Matters?
In addition to updates, flashing a vehicle's computer removes false engine codes and helps the engine run much more efficiently; drivers often see an increase in engine performance and improved gas mileage. Sometimes the manufacturer's updates are simple fixes, but they could also be for a serious drivability or safety issue. If you're towing someone's vehicle, the ability to flash its computer at your shop prevents having to take it to the dealership.
Are You Outsourcing Vehicle Flashing to Other Shops?
The introduction of on-board diagnostics has been a game-changer in automotive repair. In fact, fixing the software itself has become a major reason people bring their vehicle in for repair. And sometimes, updating the in-car software may be the only solution to a performance problem.
Because the lack of OE-level resources, many independent repair shops end up outsourcing flashing and other repair jobs to dealerships. If that describes your business, you know that such situations cost you time and money. Not only do you lose the repair income, but the time spent towing the vehicle to the dealership eats up valuable manpower hours when other jobs could be taken care of.
To date, flashing capabilities haven't been easy for independent repair shops.
It's typically a time-consuming process
Cumbersome equipment is involved
Technicians don't have the proper equipment, expertise or training to complete the service
There's also plenty of confusion over the cost to do a flash, as every manufacturer has its own system.
MaximusFlash+ Takes the Frustration Out of Flashing
The Ma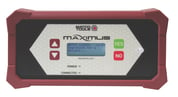 ximusFlash+ offers an easy way to perform OE level flashing for all GM, Ford, Chrysler, Toyota, and Honda models. Designed with simple plug and play features, it quickly connects to the vehicle so you can submit an online diagnostic service request.
Within thirty minutes of submitting a diagnostic service request, a Matco factory-certified diagnostic technician will call your shop to help you complete the service. Even better? Now, you don't have to tie up your top technicians with time consuming jobs. That means your most experienced technicians can focus on turning more jobs in your shop.
Investing in the MaximusFlash+ is like having a factory scan tool in your repair arsenal. No more turning down jobs because you can't perform flashing services. More work stays in-house, increasing your bottom line.
Best-in-class hardware, one-click integration, live professional support and faster turnaround make the MaximusFlash+ a smart choice, helping you more efficiently utilize your labor and deliver the highest level of services to customers.
For more information on the MaximusFlash+, contact your Matco Tools Distributor today.