Flex like you mean it! The Matco Tools dual flex angle pneumatic impact wrench is here to revolutionize your automotive toolbox with the flexibility you need to fit into tight engine bays and other confined areas.
What Sets Matco's Dual Flex Air Impact Wrench Apart?
Bringing the unique ability to provide power in tight, awkward spaces, a flex head impact wrench allows the user to work where previously only hand tools would fit. It meets the specific needs for every professional technician: high torque, speedy break-away, and extreme low profile for fit in tight places.
How Does the Dual Flex Impact Wrench Perform?
Adjustable head angle works like a flex-head ratchet, plus a swivel position handle and throttle. The tool is lightweight and compact, but still powerful enough for everyday use. The result is not just a fast installation but a strong one as well.
Available in a 1/2" Drive MT2612 and a 3/8" Drive MT268, the Matco dual flex design has distinct advantages to take on tough automotive work. If you're looking for an impact wrench that punches above its weight, they provide 400 ft. lbs. of breakaway torque despite the lightweight and ergonomic design.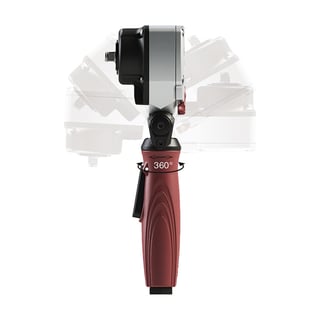 Whether you are just starting out as a professional technician, or someone with years of experience, it's great to find a tool that can be beneficial to nearly any work environment. If you have been looking for a new and powerful air impact wrench to add to your arsenal, then the Matco dual flex impact wrench is certainly worthy of your attention. It is built for performance and all-day comfort for any automotive job angle, and it certainly delivers.
Craving More Power Tools?
Need more power in your toolbox? Matco's full line of Cordless Tools and Air Tools (Pneumatic Tools) will help get the job done, whatever challenge you throw at it.
Questions about Matco Tools? Be sure to reach out to your local distributor or contact our Customer Care team of experts at 866.BUY.TOOL.