Looking for a career where you get to call the shots and create your own schedule?
Our smaller truck franchise offering, Matco 225, may be the perfect fit for you.
The great thing about Matco 225 is that it fits your needs and schedule while still giving you the benefits of business ownership without overextending yourself. If you're looking to supplement your income or scale down from a 5-day work week, Matco 225 could be the best fit for you.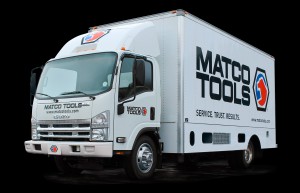 Matco 225 provides you with 225 customers on your route which allows for a lighter, more flexible schedule to fit your needs.
Matco 225 also offers a lower start-up cost than our classic franchise offering. Because you'll be serving a smaller customer base, you will not need as many tools on your store. With less inventory on your truck, your initial expenses will be lower. Matco Tools offers an in-house financing program that can cover up to 100% of the start-up costs for those who qualify.
We've put tools in place to make it easier for you to own your own business.
Ultimately, Matco 225 offers more flexibility while giving you the same rewarding franchise experience. This smaller franchise offering allows for a more flexible work schedule. The 225 model is great for those approaching retirement or those looking for extra income. Some Matco distributors have even expanded their business by having their spouse, child or business partner run their store while they continue to run their Classic Matco Tools Franchise!
At Matco, we're committed to giving you the financial support and training you need to get behind the wheel of your own Matco Tools franchise. Not only will we help you get your business up-and-running, but we are also dedicated to helping you successfully grow your business for years to come. You may be starting a new career, but becoming a Matco Tools distributor also means joining a family of 1700 strong.
It's time to jump start your career with Matco's newest and most flexible opportunity – Matco 225.
Get a FREE "See How a Matco Franchise Works" report and find out if Matco 225 is the right fit for you and your family with no obligation to commit.