From seasoned mechanics to fresh-out-of-school auto technicians, below are the best Christmas gift ideas for any man who loves to get their hands dirty with tools. We've outlined a section for every type of shopper this holiday season: Cheaper options like Stocking Stuffers, Hand Tools that every mechanic loves and needs, tool apparel to wear at work, and more!
Christmas Gift Ideas For Men Who Love Tools
Unique gifts for mechanics, boyfriends, dads, or anyone who just loves tools:

This pocket pry bar is designed to provide maximum leverage and prying power in the palm of your hand. At just five inches long, the offset pocket pry bar offers the best access in tight spaces. Its angled 55° shape can lift objects better than the competition. It is made to last with special steel high torsional strength. Plus, it's made in the USA!
---
This hat is one of our favorites. It's the perfect hat for any time of the year! This vintage-inspired hat is made of easy-care polyester with a mesh back and would make a perfect gift for your man. This hat looks great on anyone and will keep you shaded while looking fashionable at the same time!
---
Our 4-piece set of hooks and picks is a great addition to any man's toolbox - designed for removing small fuses, O rings, adjusting and retrieving small parts, and removing transmission oil seals and clips. The cushion grip handles provide comfort the ultimate comfort with these tools!
---
Tools Under $50:
Our 8" slip-joint pliers are forged of premium-quality steel for maximum strength and include an angled wire cutting grove for extra utility. This tool is great for working in tight spaces, while the high-leverage joint provides maximum gripping pressure.
---
This hook-and-pick set is great for separating wire, removing O-rings, gaskets, and seals, and grabbing and pulling small fuses. Some of the other uses for this set are replacing small engine parts, spark plugs, and wiring, or as a prying tool. This set comes with 6 pieces: three hooks, two picks, and one torsion bar. The ultra-comfort grips eliminate fatigue, and allow for faster work!
---
This 12-slot magnetic wrench rack is a great way to store your tools. This ultra-flexible rack has a magnet attached to the back for easy storage on tool carts, vehicles, or in your toolbox drawer. It is made of non-marring TPR material, keeping it from scratching or denting surfaces! Its 20 embedded magnets will help keep your tools organized and in one place while still allowing you easy access whenever you need them.
---
Tool Apparel
Men's Redback Matco Black Bamboo Socks
With its bamboo fiber, these Redback men's socks are a great way to keep your feet cool, dry, and comfortable. Featuring a flat-toe seam design, these socks also help prevent blisters from forming on the top of your toes. These men's socks have ultra-soft comfort that lasts all day long, making this a must-have Christmas gift for men!
"These are my current favorite socks of all time. They're smooth and cushioned and breathable enough to keep my feet dry at the end of the day." - Rated 5/5 Stars
---
Matco / Oakley Insulated Jacket
When the weather starts to cool down, turn to the Encore insulated hooded jacket - an ideal jacket for almost any outdoor environment! O-Protect DWR technology protects against rain and snow while the quilted insulation helps keep you warm.
The full zip hooded jacket with branded puller and adjustable drawcord at the hem delivers trend-forward style in this cold weather companion, making this a top Christmas gift for men!
---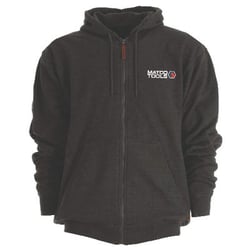 Need Christmas ideas for the men in your life? Look no further! The Thermal-Lined Hoodie is a great gift idea for men on cold days. Whether you're looking to wear it under a jacket or coat, over a t-shirt, or on its own, this hoodie will keep you warm and cozy!
---
Hand Tools
1/4" & 3/8" Drive 101 Piece Matric/SAE Silver Eagle Master Socket Set
This 101-piece set is a must-have for anyone looking to add more sockets to their toolbox. The set includes both metric and SAE sockets and wrenches. The sockets have a durable chrome finish, while the ratchet handles are made from heavy-duty steel that can withstand plenty of use. In addition, an extension bar is included so you can reach those hard-to-reach places on vehicles or other machinery.
The Silver Eagle® brand is known for its high-quality products that are built to last, which makes this socket set perfect for professionals who work on vehicles every day!
---
---
Lights
Mini Handheld Rechargeable Flood Light
Our mini handheld rechargeable light is a powerful floodlight that provides up to 10 hours of run time. The light is rechargeable and has a magnetic base to attach to any metallic surface bringing light where you need it. This light is a must-have for every mechanic and is the perfect addition to your tool collection!
---
This rechargeable neck light is constructed with durable, lightweight ABS material that aids in reducing user fatigue. The movable joints allow for the light beam to be directed precisely where it's needed. This light has a max of 300 lumens and features a dimmer to lower the illumination level to whatever is needed. Because of its lightweight, it's comfortable to wear, making it easy to work in any situation. It has a long battery life so you can use it for many hours without needing to charge it again.
---
Handheld Rotating Rechargeable Flashlight
This powerful work light features a 250-lumen flashlight, a 200-lumen COB LED floodlight, and a UV light. It is micro-USB rechargeable so no need for replacement batteries. Use the strong, pivoting magnetic base to stick this work light to a metal surface for hands-free operation.
---
This Matco exclusive light is the perfect tool for working in dark spaces with hard-to-reach areas. Multiple light settings and adjustable arms allow for customized lighting in any space. It is adjustable up to 700 lumen and comes with a detachable magnetic swivel base, 2 interchangeable lithium batteries, a base hook, and a quick charging dock. This is work light works almost as hard as that special man in your life!
---
Creepers:
The Matco Tools padded tractor seat with backrest is a heavy-duty seat for tough jobs. The comfortable seat area is covered in leather-like vinyl. The heavy-duty spring suspension system provides comfort and support when sitting for long periods of time. This creeper seat is also rust-resistant and has a magnetic strip in the tray to hold small metal parts.
---
---
Ratchets:
3/4" Drive 40" Extendable Ratchet
The Matco Tools 3/4" Drive 40" Extendable Ratchet is a flexible, hand-held tool that can be used to secure or loosen fasteners. It's a very versatile tool that has many uses for heavy-duty machinery including excavators, bulldozers, forklifts, and industrial stationary engines - anywhere involving high torques and big fasteners. It comes with an ergonomic handle that makes it comfortable to use. This extendable ratchet is convenient for mechanics and can extend from 28" to 40", increasing applied torque.
---
3/8" Drive 12" Eighty8 Tooth Locking Flex Head Ratchet With Ergo Handle
This is one of our most popular ratchets! It's heavy-duty, with a unique 9-position locking flex head ensuring that the ratchet head maintains the desired position regardless of size or applied load. Another great feature is that the slim profile allows better access in tight areas. In the popular Matco blue, the ergonomic handle provides the ultimate grip and reduces fatigue during use. It's a no-brainer that every mechanic needs this ratchet added to their toolbox.
---
3/8" Drive 1" Eighty8 Tooth Locking Flex Head Spark Plug Ratchet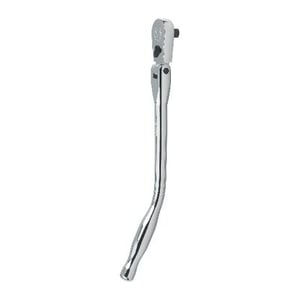 The sturdy construction makes this spark plug ratchet ideal for use on heavy-duty applications like oil change shops or service garages. The ultra-low profile head permits access to the tightest jobs and the positive stop feature will prevent any overtravel or lock-up while switching. Made and assembled in the USA!
---
1/4" Drive 7-3/4" Eighty8 Tooth Locking Flex Ratchet with Ergo Handle
This ratchet is an excellent addition to any collection! The handle is ergonomic for comfort and control, and the ratchet is made and assembled in the USA. It has a 2-position sliding switch that makes changing directions easy, and has a unique 9-position locking flex head!
---
Power Tools:
This is the BEST air impact on the market. If you're looking for a tool that can handle any job, look no further. This 1/2" drive air impact wrench features 1,600 ft. lbs. of breakaway torque to get tough automotive jobs done faster. It comes with an ergonomic grip to reduce hand fatigue and allows you to work longer without feeling discomfort in your hand or wrist. Choose from a variety of different color options!
---
This digital tire inflator is another great gift for mechanics and can inflate, deflate, and measure tire pressure. It's twice as accurate as other systems and is great for sensitive TPMS systems. This tire inflator is a great choice for any auto tech who wants to make sure a vehicle's tires are always at the proper pressure.
---
20V+ Cordless 1/2" Impact Wrench Kit
This impact wrench is able to deliver up to 1,600 ft. lbs. of max torque, giving any tech the ability to get the most out of any project. This tool is lightweight yet sturdy enough to tackle any job- making it a great gift for mechanics.
---
Cordless Infinium Universal Charger
If you have a collection of cordless tools, it can be frustrating to find the right charger for each tool. With this universal charger, no need to worry about that! This Infinium universal charger can charge Matco 12V, 16V, 18V, and 20V Li-Ion batteries. It also can charge older 10.8V stick type, 14.4V slide type, and 18V slide type. This charger is the perfect gift for any mechanic who loves cordless tools!
---
Shop more: