No matter how well you may know people in your life, it's often tough to find the perfect auto mechanic gift. You may think they already have it, or you don't know if a tool is something they'd really use or like. It's the thought that counts and finding that unique mechanic gift can make for a memorable experience.
To help you find the perfect gift they'll be sure to love, we've put together a handy list of some popular and most useful gifts for mechanics available on matcotools.com.
What's a Good Gift for a Mechanic?
The 10 best mechanic gift ideas for the professional in your life:
1. Hyper Step Drill Bits

The Matco Exclusive patented Hyper-Step drill bits in the 29-piece Hyper-Step drill bit set are designed to cut 45% faster making them an excellent choice for sheet metal and other hardened metals. Made to eliminate drill starter pilot holes, the bits also feature three-flatted shanks that reduce the slippage normally seen with key-less chucks.

2. Top Torque Screwdriver Set

Need optimum turning power and torque from your screwdrivers?

The 10-piece fluorescent Top Torque II screwdriver set features rugged, long-lasting high-alloy German steel blades and precision machined tips for a perfect fit. Plus, greasy hands are no match for the patented slip-resistant handle surface. The automotive mechanic in your life will reach for these every day on the job! Also available in red, green and orange.

3. ADV Sockets

The 1/2" drive ADV 30-piece metric 6-point standard and deep impact socket set distributes torque much better than others in its class. Precision engineered for performance that won't let you down with dependability and consistent product performance. Quality made for a wide range of applications, this socket set is a great addition to every tech's automotive tool arsenal.

4. Mini Rechargeable Floodlight

Sometimes it's the smallest gifts that mean the most and the Matco Exclusive Streamlight Syclone Jr. is no exception! This mini but mighty 210 lumen light provides up to 8.5 hours of light and hangs, sticks, stands and rotates for versatile lighting anywhere. The body can rotate 360º in the U-frame and is adjustable using just one hand!

5. Universal Impact Sockets

Easy to read markings and a better grab makes the 1/4" drive ADV 12-piece metric 6-point universal impact socket set a great addition to any professional auto technician's toolbox. Opti-Torque system applies torque to the fastener sides reducing corner round off.

6. 3-Piece Slip Joint Pliers Set

Need non-slipping grip for any shaped object?

This

slip joint pliers set PL3S

has a mouth that o

pens extra wide for multiple positions for maximum versatility, letting you take a big bite out of your workload. The curved jaw design in this plyer set and induction hardened teeth allows for a strong hold. Whether used as a mechanic tool or any handyman job, these slip joint pliers set is great for any application.




7. Inline Skate Creeper

Need an inline skate creeper with a nice low profile?

This green beauty features skate-style rollers that are super strong. The easy-to-clean surface repels solvents, greases, and fuels. Incredibly lightweight, it provides optimum comfort for any job

8. 16v 1/4" Cordless Stubby Impact Wrench Kit

Big power comes in a small package with the Matco Tools 16v Cordless Infinium Stubby Impact Wrench Line. The 1/4" Stubby Impact Wrench gives you 110 ft lbs. of breakaway torque in a body that is less than 5" in overall length, making it a perfect access tool. Brushless motor technology provides high torque and extended life in this small but mighty cordless power tool. The Stubby Impact line is available in 1/4", 3/8" and 1/2" drives and in burgundy, green and orange.

9. 1/2" Drive Black Chrome Blue Handle Ratchet

Need the perfect ratchet for tight spaces?

Almost too pretty for an automotive mechanic to use on the job! The 1/2" drive 27" Eighty8 tooth locking flex black chrome ratchet with its unique 9-position flex head is a smoother, stronger choice compared to other ratchets on the market. Slim profile and streamlined teardrop ratchet head for improved access in the most compact areas. An ergonomic comfort handle provides great, fatigue reducing grip. Handle color available in blue, red, orange, and green with black chrome or regular chrome.

10. Moisture Repellent Tool Bag

Our very own rain-repellent Matco 20-pocket tool bag comes with 10 wide pockets on the exterior and 10 fitted ones inside. Fully lined and big enough to handle both air and power tools as well as socket sets and more. The padded shoulder strap and double hand straps make transportation a breeze!

Looking for more WOW factor? Gift your mechanic a brand new, American-made toolbox.
Need even more gift ideas

for the automotive technician in your life, or maybe a little something special to treat yourself? Take a look at Matco's 2021 Holiday Gift Guide today!

BONUS GIFT

Maximus Lite Diagnostic Scan Tool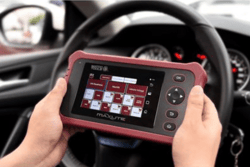 This entry-level scan tool is the most advanced and powerful code reader in the business. It features full coverage ABS, airbag, engine and transmission - codes, live data and graphing in "basic mode". This easy to navigate scan tool is Wi-Fi enabled with one-click automatic updates.
For more information and other great mechanic gift ideas, talk to your local Matco Tools distributor today or visit our complete tool catalog at https://www.matcotools.com/catalog/.