More Torque. More Benefits. Longer Life.
We know that being a technician can be messy and leaving the shop at the end of the day means dirty hands covered in oil and grease. Washing your hands between every job isn't a possibility, so you need tools that are strong, durable and won't slip out of your hands. Matco's Top Torque II screwdrivers give you the grip you need when you need it most.
They're strong. Matco's Top Torque II screwdrivers are made with the best steel available. Produced from German specialty high alloy Chrome vanadium steel, our screwdrivers give the user a lightweight tool that is strong, long-lasting and ready to take on the toughest jobs.
It's what's inside that matters. All of our Top Torque II screwdrivers feature a forged-in, butterfly shaped blade deep inside the 3-layer, molded-on handle. This molded-in blade cannot be pulled out, pounded through or twisted in the handle. Although you cannot see this feature, rest assured it's there providing durability and strength at every turn.
Ultimate turning power. Each handle on our Top Torque II screwdrivers features patented flocking on the sides. This is the fuzzy material that gives you a vice grip in slippery situations.
Why Matco's Top Torque II Screwdrivers?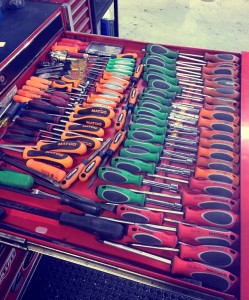 Regardless of how much oil, grease or sweat is on your hands, our Top Torque II screwdrivers give you the grip to get the job done.
The handle shape is designed specifically for the task at hand. Our large screwdrivers have large triangular handles for a strong grip; the middle-sized handles are less triangular so you have the ability to turn them quickly; and our smallest handles are almost round for fast turning and precision work.
When you need a tool that is highly-engineered, effective and ergonomically-designed for the job at hand, Matco's Top Torque II screwdrivers are what you want to reach for in your toolbox.
For more information about Matco's line of screwdrivers, please speak to your Matco Tools distributor or visit our website at https://www.matcotools.com/catalog/hand-tools/screwdrivers/.