Matco Tools has new routes available in Portland, Oregon

Portland, a city full of people on-the-go, will always need skilled technicians who can fix cars and get people back out on the road.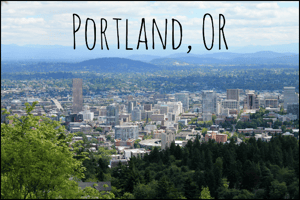 Portland, also known as the "City of Roses," is the largest city in the state of Oregon. Home to the International Rose Test Garden, outdoor activities, coffee shops and beer joints, Portland surely doesn't disappoint when it comes to activities. With thousands of people trying to get around a big city, the traffic can become time consuming; working a 9-5 job becomes an exhausting routine.
See how many available tool truck franchises are for sale in Oregon.
Being a Matco Tools distributor means you get to provide over 20,000 of the highest quality tools in the industry to professional mechanics – direct from your truck. Matco Tools is ranked a Top 5 home based business for a reason – our programs and resources are structured to help you run a successful business with the flexibility to spend time where it matters most.
Matco Tools is one of the few franchise systems that offers in-house financing to those who qualify. Matco's Financial Service group has a dedicated team that will assist you with your financial needs as you start your new business. This means we can finance up to 100% of any start-up costs you may incur with a loan that can be amortized for up to 10 years, making your franchise investment more accessible and keeping your weekly payments low.
When you become a Matco Tools distributor, training starts before you even step foot in a Matco store and continues throughout your entire career. With over 70 hours of initial classroom training, Matco provides more training than any other mobile tool franchise. Our training program focuses on your long-term success, training you on virtually all areas of owning your own business, from product classes to financial discussions.
This may be your own business, but you'll never feel alone.
Our top-of-the-line training and marketing support are here to help you every step of the way. Matco's customer service team is available 16 hours a day to answer any questions you may have, and our marketing team provides bi-weekly sales flyers and sale materials to help you expand your business.
This is a big decision, so we understand if you're still not 100% sure if this is the right fit for you and your family.
To hear from some real Matco Tools distributors, watch "It's a Family Business" with Matco franchise owner Matt Rhymer.
Get a FREE "See How a Matco Franchise Works" report to find out if Matco is right for you with no obligation to commit. It's time to make a change and become the best boss you've ever had!