If you want power, you want Matco.
As the traditional automotive shop evolves, so does storage and tool boxes that technicians use on a daily basis. That's why Matco's Power Toolboxes are different from the rest.
Because Matco knows it's not just about power; it's about how you use it, where you put it and when you need it.
All Matco Toolboxes 25" and deeper now come with power and have exposed USB and grounded outlets right in the front, making it easier to plug in tools and personal devices while providing optimal work space on top. Designed with the technician in mind, a second built-in power strip is available in the side drawer.
The Power-Integrated Toolboxes come with the same flexible options and add-ons that allow customers to design their own toolbox to fit different spaces and needs. With several color and trim options, a Matco toolbox is a reflection of individuality. Matco is the only mobile tool company that currently offers the complete power storage solution, starting with an entry-level toolbox continuing through the line of hutches and side lockers. This extensive offering makes Matco's toolboxes the most obtainable for every tech in the industry.
"With technology advancing at a rapid pace, we want to make sure our products always allow consumers to work effectively and efficiently," said John Green, Vice President of Marketing and e-Commerce for Matco Tools. "Having multiple power sources for technicians to constantly charge devices and tools maximizes their output. These new boxes are practical, flexible and designed with the technician in mind."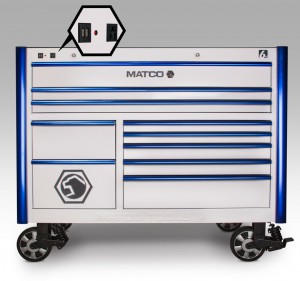 At Matco Tools, we build trust and craftsmanship into each storage unit assembled at our Jamestown, New York facility. Each Matco toolbox features our T-shaped center shelf that is fully welded to all sides for brute strength and total stability.
From the standard 4s to the ultimate 6s, Matco has the industry's best toolbox for every technician. And now, with the addition of power, Matco toolboxes just got even better.
For more information and to see the many different options available to customize your toolbox, see your Matco distributor.
*Some exclusions may apply.